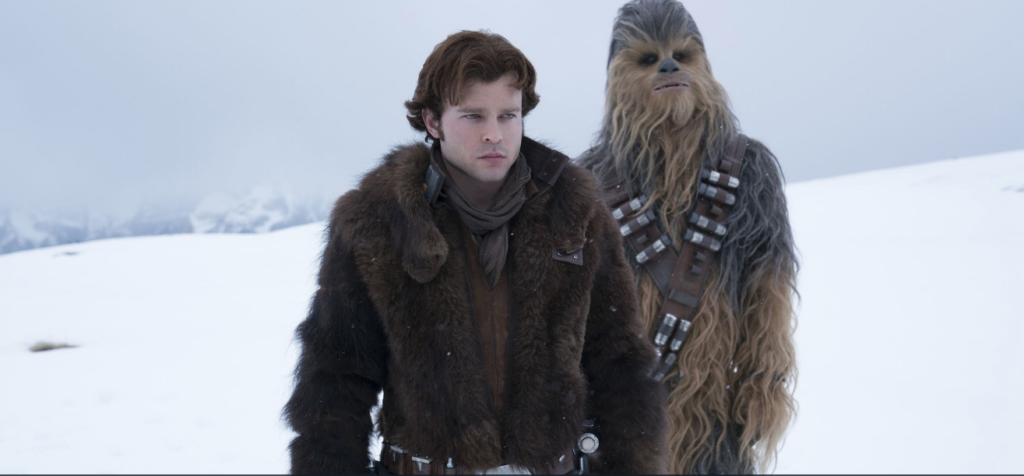 The Force is Weak for 'Solo'
04 Jun, 2018
With each Star Wars release, the Force is growing weaker for Disney and Lucasfilm in China.
Solo: A Star Wars story may have been a keen disappointment in North America, earning just $148.9 million in its first 10 days — solid for most film franchises; sad by Star Wars standards (The Last Jedi brought in more in its opening weekend alone). But in the massive China market, soon to be the world's biggest box office, the situation is far, far worse. The Han Solo origin story debuted in third place with just $10.1 million, before crashing to sixth place in its second frame with only $2 million. With just $14.9 million to date and an ever-shrinking screen share, Solo is unlikely to crack $20 million in the Middle Kingdom, making it one of the poorest performing Hollywood tentpoles of recent memory there. Even the biggest studio bombs of 2017 — Passengers($45.2 million), Ghost in the Shell ($29.3 million), Assassin's Creed ($22.4 million) — earned markedly more.
The Star Wars franchise's difficulties in China are well established. The Force Awakens started things off respectably, if somewhat below forecast, earning $124 million in 2016. Rogue One declined by nearly half to $69 million, despite co-starring Donnie Yen and Jiang Wen, two of China's biggest stars. Rian Johnson's The Last Jedi then fared even worse, opening in second place and totaling only $42 million, a number unlikely to land in China's top 50 of 2018. And now Solo, with a total so small that China's film regulators may question whether forthcoming titles in the franchise are even worthy of receiving one of the limited quota slots available to revenue-sharing film imports.
"The franchise is really losing traction," says James Li, co-founder of Beijing market research firm Fanink, which provides tracking for all major Hollywood releases in the market. "It's now stuck in a vicious cycle, so to speak," Li adds. The question, then, is whether it's even possible for Disney to turn things around.
The source of Star Wars' challenges in China are also well documented by now. The original films in the franchise, coming long before China was a force at the global box, never received a wide release in the country. Young Chinese filmgoers have thus tended to find Disney's new installments a rather confusing chore, thanks to their sprawling backstory, multigenerational cast of characters and nostalgia-geared storytelling.
"There are some hard-core fans in the big cities who understand Star Wars culture," says Jimmy Wu, CEO of Lumiere Pavilions, a prestige theater chain with more than 30 cinemas spread across the country's largest urban centers. "But among youngsters — especially in the third-, fourth- and fifth-tier cities — there is just no audience base for these movies."
Solo appears to have worsened matters by failing to even excite China's Star Wars devotees. "The positioning pleased neither the fans nor ordinary people who are franchise newcomers," says Li, noting that Fanink's prerelease tracking indicated audience awareness was far below average for a Hollywood blockbuster. "That's very rare, and it means Disney didn't do enough coverage — many people didn't even know that it was coming out." And once it did, word-of-mouth was either not great or nonexistent: "It generated very little conversation on social media, which is also really rare for a Hollywood blockbuster — it just became a movie that came and went," he explains.
With the Star Wars brand somewhat tarnished among the Chinese mainstream, Disney now faces several seemingly intractable dilemmas. Given that China is just two to three years away from becoming the world's biggest film market, the studio has a strong incentive to do everything in its power to build a legacy for its most valuable property there. But the uphill battle it is facing to revive Star Wars would probably give any executive pause. The Hollywood Reporter reached out to Disney for this story, but the studio declined to comment.
"If the audience connection to the central franchise isn't building generally with each successive film release, marketing leverage diminishes," says Rance Pow, president of the Shanghai-based cinema consulting firm Artisan Gateway.
Adds Li: "At this stage, building awareness and interest will require serious education cost, and it will have to be budgeted and pursued consistently over the long term, outside of the individual film releases."
Regarding the future films themselves, there are few easy answers. Given the passion of Star Wars fans in North America and much of the West, cutting down on the references and Easter eggs, and tailoring the films to be more newbie-friendly in China could come with considerable risks.
"China is perhaps the most important international market from the major studio perspective, but it is still a single market in an industry that measures success in global terms," explains Pow. "The growing audience differences between the major global markets are well documented — building a Star Wars franchise for China would by definition risk diminishing the phenomena of Star Wars the global franchise."
Analysts agree that casting more Chinese actors could help, but it also carries risks. The performances of Donnie Yen and Jiang Wen in Rogue One were widely praised for adding to the enjoyment of the film for audiences everywhere, but U.S. and Chinese filmgoers are primed to view financially inspired story and casting decisions skeptically — if a Chinese actor's role appears forced or arbitrary, backlash can just as easily be expected.
"Casting Chinese stars can be a helpful supporting factor, but it's still not as important as attraction to the story and it really needs to be done right," adds Li.
However Disney decides to approach the puzzle, it can take some solace in the fact that Star Wars is perhaps its only real sore spot in the surging Sino market. After all, one of the holdover titles that trounced Solo in China was the studio's own Avengers: Infinity War, the biggest foreign import in the country this year with $356 million and counting. And not long after Solo and Avengers fade from the frame later this month, Disney's and Pixar'sIncredibles 2 will descend on the market with a solid chance of repeating some of the magic of the company's Zootopia ($235.6 million) and Coco ($189 million), the two biggest animated movies in the Middle Kingdom in 2016 and 2017, respectively.
Adds Pow: "In some cases China has been the savior of international box office, and in other cases the spoiler — we should expect more of the same for the foreseeable future."
THR
Image lopezgovlaw twitter
Mentioned In This Post:
About the author