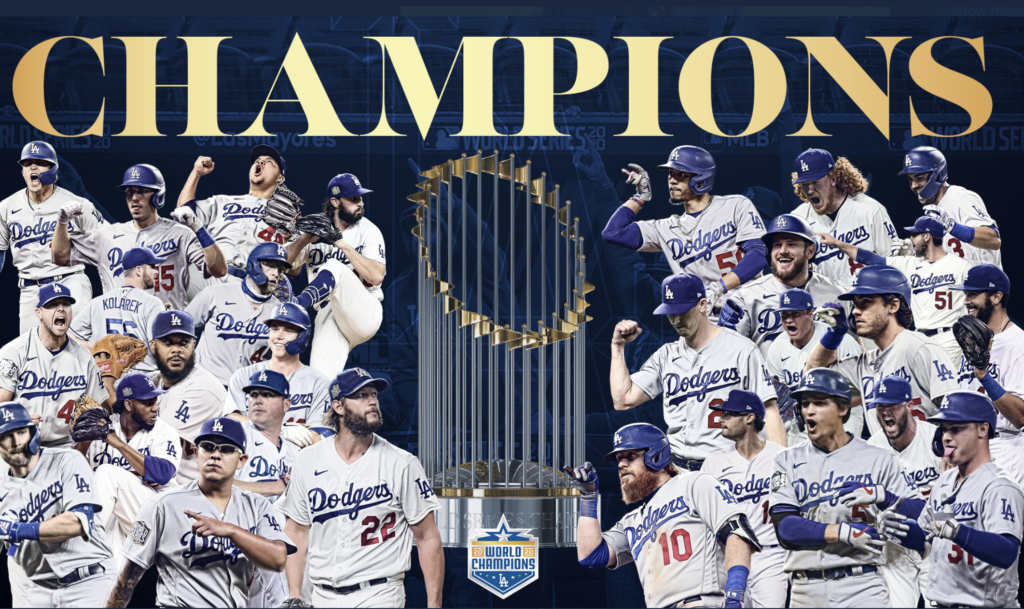 The Sun Always Shines in Los Angeles
28 Oct, 2020
Rays manager Kevin Cash raised his right arm, signaling for the bullpen. Tampa Bay starter Blake Snell bit his lip and shook his head.
And the Dodgers smelled blood.
The Dodgers are World Series champions for the first time since 1988 because they seized their moment when Snell's dominant Game 6 outing was controversially cut short Tuesday night at Globe Life Field in Arlington. With a sudden offensive awakening against Rays reliever Nick Anderson in the sixth inning, the Dodgers won, 3-1, to claim their long-awaited crown and complete their domination of the shortest, strangest season in Major League Baseball history.
"This team was incredible all throughout the year, all throughout the postseason, all throughout the quarantine," said Corey Seager, who drove in the go-ahead run in the sixth and became the eighth player to win the League Championship Series MVP and World Series MVP in the same year. "We never stopped. We were ready to go as soon as the bell was called. And once it did, we kept rolling."
It was a 2020 season of unprecedented challenges for all involved — right up until its final game, when the World Series champs' starting third baseman, Justin Turner, was pulled prior to the eighth inning after receiving the results of a positive COVID-19 test midgame.
On the flip side was Randy Arozarena, who overcame a month of COVID-necessitated quarantine to become the Rays' surprise October hero (his first-inning homer in Game 6 was his record 10th of the postseason).
And yet, for all the unpredictability and obstacles, the Dodgers, winners of eight straight National League West titles and losers of the 2017 and '18 World Series, ended up right where so many expected when they pushed in their chips last offseason and placed Mookie Betts in their already loaded lineup.
They hoisted the Commissioner's Trophy for the first time in a generation.
"This is our year," manager Dave Roberts said during the on-field celebration, in front of an intentionally limited number of attendees at Globe Life Field. "We said it. This is our year. Everyone in this ballpark wearing Dodger blue, everyone all over the world wearing Dodger blue, never wavered. This is our year."
After a coronavirus surge in the States dramatically reshaped the length and look of the MLB regular season, the Dodgers mercilessly ran through their shuffled schedule with a .717 winning percentage (43-17) — the fifth highest of the Modern Era, albeit in a 60-game season.
When a new-look postseason format asked more of the division winners, the Dodgers ran roughshod over the Brewers in the NL Wild Card Series and the division-rival Padres in the NL Division Series, and then overcame a 3-1 deficit against the Braves in the NL Championship Series.
And when the Rays threatened to push this neutral-site World Series to a Game 7 behind Arozarena's early homer and Snell's fantastic first two turns through the order, the Dodgers pounded down the door the minute it was cracked ajar.
That moment arrived in the sixth inning. It's the moment that will forever define this Game 6.
With one out, Snell allowed a line-drive single to Austin Barnes — just the third ball he had let out of the infield in 5 1/3 innings of wowing work in which all of his pitches were on point. Snell had thrown only 73 pitches and allowed only two hits.
"I believe in me, I believe in what I was doing," said a disappointed Snell, who also racked up nine strikeouts through four innings. "I didn't walk anybody. For most of that game, man, I was dominating every outcome possible."
But Cash showed fierce devotion to his pitching plan and went to his bullpen as the lineup turned over for a third turn. Immediately, the move to Anderson, who had allowed a run in six straight postseason appearances, backfired against Betts.
"I think at that point, I was like, 'I got a chance,'" Betts said. "Snell was rolling… I wasn't asking any questions, though. I was just like, 'Hey, your manager said you gotta go, next guy's coming in.' At that point, I tried to put an at-bat together and go from there."
Betts grounded a double down the left-field line to put runners at second and third. Then Anderson uncorked a wild pitch that allowed Barnes to score the tying run and advanced Betts to third. And when Corey Seager scooted a ground ball to first with the infield drawn in, Betts took off on contact and slid in safely at the plate, ahead of Ji-Man Choi's throw, to give the Dodgers the go-ahead run, 2-1.
"I guess I regret [the Snell move] because it didn't work out," Cash said. "But I feel like the thought process was right. Every decision that's made, that end result has a pretty weighing factor in how you feel about it. If we had to do it over again, I would have the utmost confidence in Nick Anderson to get through that inning."
Though the Dodgers' own pitching plan had some early difficulty in the form of Arozarena's first-inning homer off Tony Gonsolin, who was pulled after only five outs, the trail of six relievers trotted out by Roberts held the Rays scoreless for the remaining 7 1/3 frames. Alex Wood's two perfect innings allowed Roberts to align his most trusted options late.
Betts' monster solo shot in the eighth was an emphatic exclamation mark on his first season in Dodger blue, and Julio Urías' 2 1/3 perfect innings finished off the seventh World Series title in franchise history. As was the case in the only comparably short MLB season — the 1981 campaign reduced by a work stoppage — the Dodgers finished on top.
The Dodgers came into this year both angered and inspired by the Astros' sign-stealing scandal and what they felt was robbed from them three years ago. And though Tampa Bay's American League Championship Series triumph over Houston prevented a rematch, Los Angeles got what it felt was due. The Dodgers ended the third-longest streak of ring-less postseason appearances (13).
That they did it as the "home" team in the Rangers' brand-new ballpark, of all places, was even oddly appropriate, given that the Cooperstown-bound Clayton Kershaw finally shook off the pains of Octobers past about 15 miles west of his hometown.
"I've been to the postseason, I've lost every single year," Kershaw said. "To look up, I wish it was Dodger Stadium, but it feels like it right now with all these Dodger fans around. To see how happy these fans are, they've been waiting a long time, too… It's just a special feeling."
Kershaw has been with the Dodgers long enough to have the highlight of Kirk Gibson's Game 1 walk-off home run in 1988 burned on his brain. They've played that on repeat in Los Angeles for 32 years.
Now, there's a new sequence to sum up a Fall Classic. Instead of Gibson coming off the bench, it's Anderson coming out of the 'pen, and the 2020 Dodgers making magic all their own.
MLB.com
Image Dodgers twitter
Mentioned In This Post:
About the author