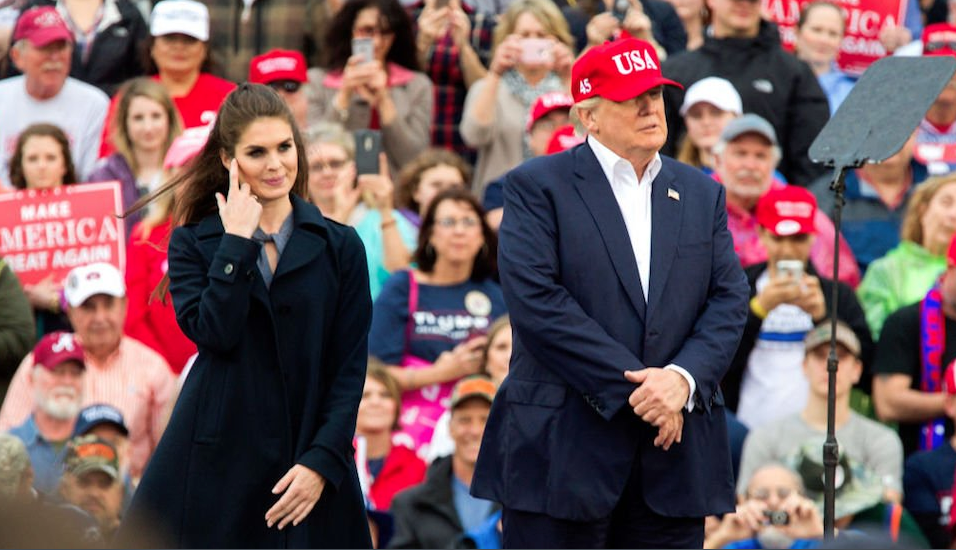 There Are No Friends In Washington DC
28 Feb, 2018
Hope Hicks, the White House communications director and one of President Trump's longest-serving and closest advisers, abruptly announced Wednesday that she plans to resign — sending a jolt through a West Wing besieged by internal tumult and the intensifying Russia investigation.
Hicks, 29, began working for Trump before he announced his candidacy and has been a trusted confidante for three years, shaping his image, managing his moods and counseling him on nearly all matters, from the substantive to the trivial.
A political neophyte who was fiercely loyal to her boss, Hicks exerted extraordinary influence in Washington and was treated by the president almost as a surrogate daughter. She had been widely expected to remain working for Trump until the end of his presidency — and possibly even beyond.
But her special relationship with the president has ensnared Hicks in special counsel Robert S. Mueller III's wide-ranging investigation of Russian interference in the 2016 election and of possible obstruction of justice by the president. She has come under scrutiny for, among other things, her role aboard Air Force One last year helping the president draft a misleading statement about his son Donald Trump Jr.'s 2016 meeting with Russians.
Hicks has been interviewed by Mueller's team, and on Tuesday she testified for nine hours before the House Intelligence Committee as part of its separate Russia investigation. She admitted to telling what one person familiar with her testimony characterized as white lies. Hicks told the ­committee that she sometimes stretched the truth on ­minor matters at Trump's direction but that she had never lied about anything relevant to the investigation, ­according to this person, who spoke on the condition of anonymity because the testimony was confidential.
White House officials insisted that Hicks's decision to leave the administration was in the works for several weeks and had nothing to do with the Russia probe or her appearance on Capitol Hill this week. They said Hicks was burned out by three years working in the whirlwind of the Trump orbit, with crises occurring by the day and sometimes by the hour, and she told the president she was ready to pursue opportunities in the private sector.
"There are no words to adequately express my gratitude to President Trump," Hicks said in a statement. "I wish the President and his administration the very best as he continues to lead our country."
In his own statement, Trump said, "Hope is outstanding and has done great work for the last three years. She is as smart and thoughtful as they come, a truly great person. I will miss having her by my side but when she approached me about pursuing other opportunities, I totally understood. I am sure we will work together again in the future."
Hicks's exit, which was first reported by the New York Times, comes at an especially fraught and tumultuous time for the administration. Mueller's investigation is creeping closer to the Oval Office with a guilty plea and cooperation agreement from ­former deputy campaign chairman Rick Gates. And Jared Kushner, the president's son-in-law and senior adviser, has had his security clearance level downgraded, depriving him of details about the nation's top secrets.
Hicks is only the latest senior aide to depart. Staff secretary Rob Porter, who oversaw the flow of information to the president, exited earlier in February after both of his ex-wives accused him of domestic abuse. And on Tuesday, Josh Raffel, the deputy communications director who was a go-to crisis manager and worked closely with Hicks, announced that he planned to resign.
Only a few "Trump originals" remain working in the White House, including Kushner; Ivanka Trump, the president's daughter and senior adviser; and Dan Scavino, a golf caddie turned social media director. First lady Melania Trump is an infrequent presence during the day, and one of the president's closest friends in the White House, longtime former bodyguard Keith Schiller, left his job as director of Oval Office operations last fall.
A former fashion model raised in Greenwich, Conn., Hicks entered Trump's universe as a public relations consultant to his daughter Ivanka. She then went to work directly for Ivanka Trump's company, from where she was recruited to join Donald Trump's presidential campaign in its infancy.
"Hope Hicks is loved & admired by all who know her," Ivanka Trump tweeted Wednesday. "It's with a heavy heart, but tremendous gratitude, that I wish her well in her next steps."
By her own admission, Hicks knew little to nothing about politics. But she had a preternatural ability to manage Trump's whims and appetites and soothe his mood swings. On the campaign trail, Hicks was more than a press secretary. She was a multitasker, part strategist and part travel buddy, whose tasks included steaming the candidate's pants before his rallies, often while he was wearing them.
Washington Post
Image the hill twitter
Mentioned In This Post:
About the author