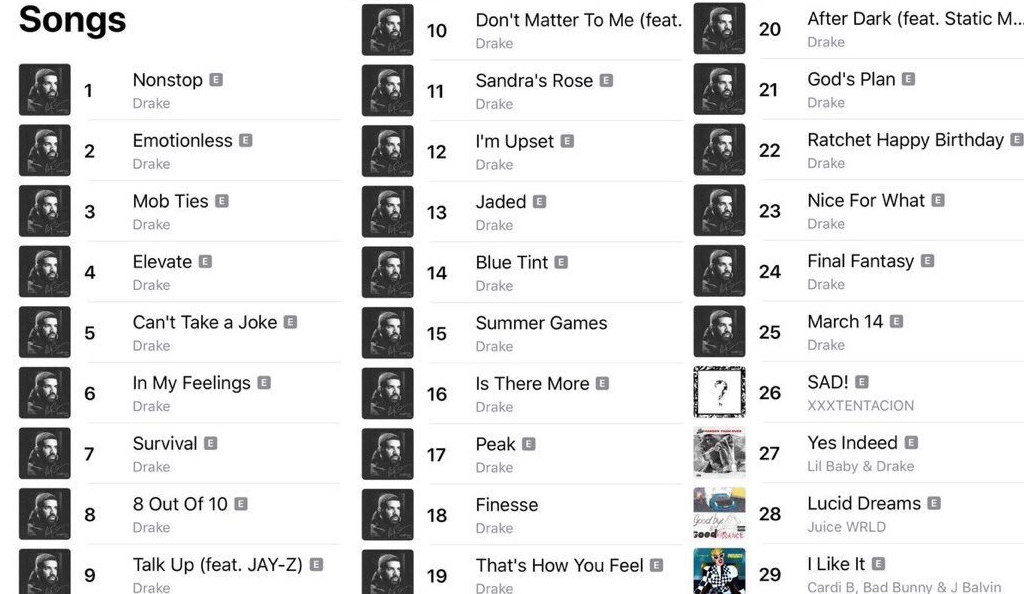 Drake Is Crushing Steaming Records
02 Jul, 2018
Drake is upset about a lot of things on his new album, Scorpion, but commercial performance isn't one of them: The album obliterated first-day streaming records on Spotify and Apple Music  and is on its way to logging the best streaming week of all time.
Scorpion earned 170 million Apple Music streams in its first day of release, Rolling Stone reports. That's almost double the 89.9 million first-day streams Drake logged with his 2017 "playlist" More Life, the platform's former record-holder. His new, 25-track double album also accumulated more than 132 million Spotify streams worldwide in its 24 hours, handily usurping Post Malone's Beerbongs & Bentleys, which previously set the record in April with 78.7 million first-day streams. Drake also smashed Post's stateside record, accumulating 80.5 million Scorpion streams versus Beerbongs & Bentleys' 47.9 million streams.
Drake currently occupies 17 of the top 20 slots on Spotify's Global Top 50 chart, along with 23 of the top 25 slots on the United States Top 50 chart. On Friday, Scorpion's release day, the platform tweeted that the album was being streamed more than 10 million times an hour. At this rate, Scorpion will easily nab the top spot on the Billboard 200 albums chart and is all but guaranteed to break Post Malone's first-week streaming record of 431.3 million streams. It could even become the first album to ever log one billion streams in its first week, according to the Verge.
Scorpion immediately became eligible for a platinum certification thanks to its two lead singles, the 8x platinum "God's Plan" and the 3x platinum "Nice for What." Those figures won't count toward the album's first-week sales, but at this point, Scorpion might end up moving another million units in its first seven days anyway. Drake also just became the RIAA's top certified singles artist of all time, and he should be adding plenty more gold and platinum plaques to his collection in the near future.
Forbes
Image Apple music
Mentioned In This Post:
About the author