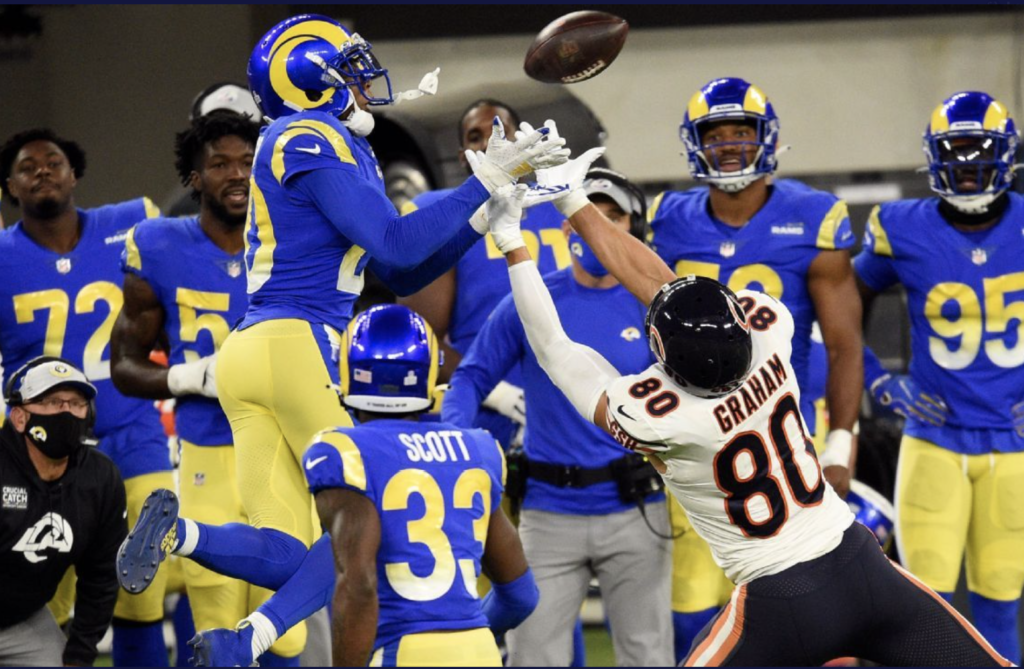 Fools Gold!
27 Oct, 2020
The Chicago Bears traveled to Los Angeles in search of national respect.
Chicago instead subjected the nation to kind of hideous offensive football that prevented people from buying in. At 5-2, the Bears are very much NFC playoff contenders, but Monday night's 24-10 loss in Los Angeles once again exposed the team's fatal flaw: The offense stinks.
In what has become a broken record, the Bears' offense established zero rhythm, zero continuity, inspired zero confidence and scored close to zero points -– safety Eddie Jackson's fumble return accounted for Chicago's lone touchdown.
The offensive line needs a massive offseason overhaul. It all starts up front, where the Bears accomplished next to nothing against the Rams. Run the football. Nope. Protect Nick Foles. Nope. Commit costly penalties (Germain Ifedi, Rashaad Coward). Yep.
The Bears have scored a touchdown on just 48% of their red zone possessions –- tied for fourth worst in the NFL, according to ESPN Stats & Information.
Some of the play selections didn't help matters. The football world probably has seen enough of fourth-and-1 pitches to Cordarrelle Patterson. Patterson is a Pro Bowl kickoff return man. He is a maximum-effort guy. Yet the fascination with calling his number on plays out of the backfield is baffling. The Bears drafted David Montgomery to be a three-down back. Where is Montgomery when the Bears need a couple of tough yards on the ground?
"This is hard — I've never really been a part of this before. It's a situation that's frustrating for all of us … when you care so much and are trying so hard, that's the part that stings," head coach Matt Nagy said. "Just trying to get that thing right, and it hasn't happened … we have to look across the board at everything. We gotta start fast. When you come out and get a penalty, it kills the drive. Penalties hurt; you cannot have them early on in the game. You cannot have penalties in fourth-and-1 trying to move the sticks. That's the part when we have to figure out when this is going to stop."
The frustration for Bears fans also has been palpable and building. The Bears spent the past week defending their record while choosing not to focus too much publicly on the faults. Fair enough.
After that display on Monday Night Football, there is nowhere to hide those faults and the criticism will continue.
Not good enough. Foles' best play occurred in garbage time when he connected with Allen Robinson for 42-yards — Chicago's first 40-plus yard reception of the season. Foles missed a wide-open Darnell Mooney on a deep ball down the sideline as he faced pressure from Los Angeles' defense. Foles later had a third-quarter pass tipped and intercepted in the end zone that effectively ended the game. Foles finished the night 28-of-40 for 261 yards and two interceptions (66.8 passer rating). Not good enough, indeed.
Chicago's defense played another reasonably strong game until it ran out of gas. As advertised, Khalil Mack applied pressure on Rams quarterback Jared Goff. Mack recorded his 17th career strip-sack in the third quarter — the second most in the NFL since the start of 2014. Mack's sack happened in the span of just 2.64 seconds. That's the second-fastest time Mack has had as a Bear. The defense (despite a bunch of penalties, most notably by dominant defensive lineman Akiem Hicks) kept the Bears in it for a good chunk of the night. At some point, Chicago's offense has to join the party. Otherwise, the defense is going to wear down over the final nine weeks.
ESPN
Image ESPNLA twitter
Mentioned In This Post:
About the author