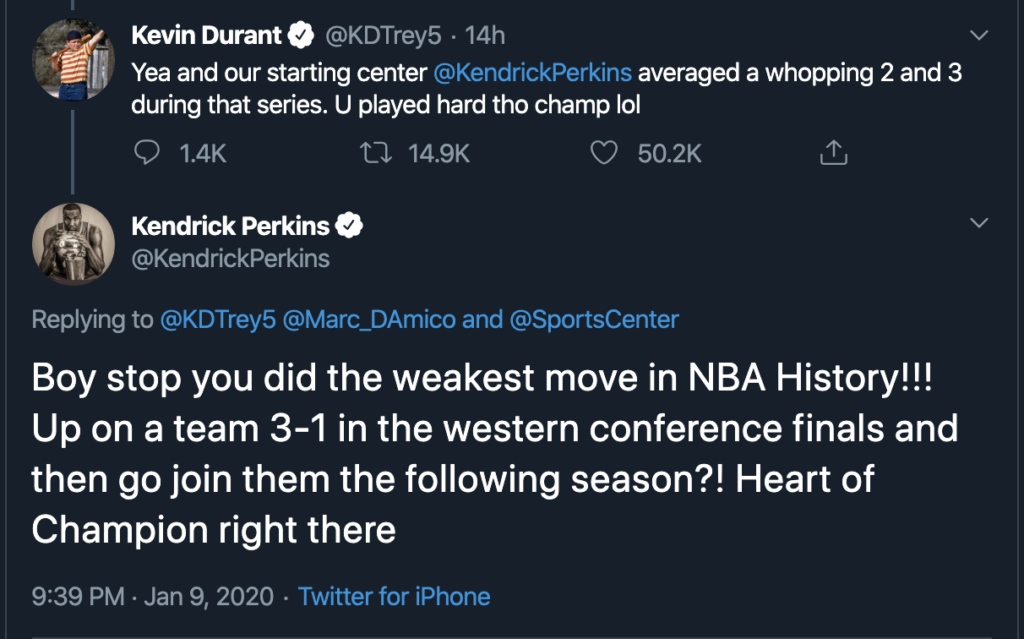 KD Was Crying On Twitter Again
09 Jan, 2020
Kevin Durant apparently isn't going to take Twitter criticism about his NBA legacy or decision to join the Brooklyn Nets, jumping into the replies to engage with media members multiple times this week.
Thursday's back-and-forth was with former Thunder teammate and current ESPN analyst Kendrick Perkins, on the same night as Russell Westbrook's return to Oklahoma City.
Durant landed one of the first Twitter jabs when he bashed Perkins for averaging a "whopping 2 and 3" during a second-round playoff loss to the Memphis Grizzlies in 2013.
Durant's tweet had followed a back-and-forth that started with Perkins declaring that Westbrook was the best player ever to put on a Thunder jersey, with a number of people replying to show support for Durant.
Order may have been restored through Perkins' response of "Facts on the averages and facts on the Champ part too!!!"
Durant responded with a handshake emoji — but Perkins continued, calling Durant's decision to join the Golden State Warriors in 2016 "the weakest move in NBA history" and telling him, "Truth be told you don't even feel like a real Champ."
Durant's response was to continue to question Perkins' contributions.
On Wednesday, Durant defended his decision to join the Nets when CBS Sports Radio's Brandon Tierney tweeted that Durant "passed up the shot" to play for the New York Knicks while also implying that the Brooklyn team is irrelevant.
Durant did downplay the significance of these interactions, tweeting that "this energy doesn't leave social media" and "We talkin hoops not life. There's a difference."
This week continues a history of social media moments involving Durant. In July, he and CJ McCollum went back and forth after the Trail Blazers guard referred to Durant as "soft."
Durant also called it a "total accident" in April 2018 when he liked criticism of Westbrook on Instagram. He also was caught in September 2017 using "burner" Twitter accounts to criticize the Thunder.
Durant is not expected to play this season after he ruptured his right Achilles tendon in Game 5 of the NBA Finals in June, his final game with the Warriors. He signed a four-year contract worth up to $164 million with the Nets in the offseason.
ESPN
Image KD twitter
Mentioned In This Post:
About the author