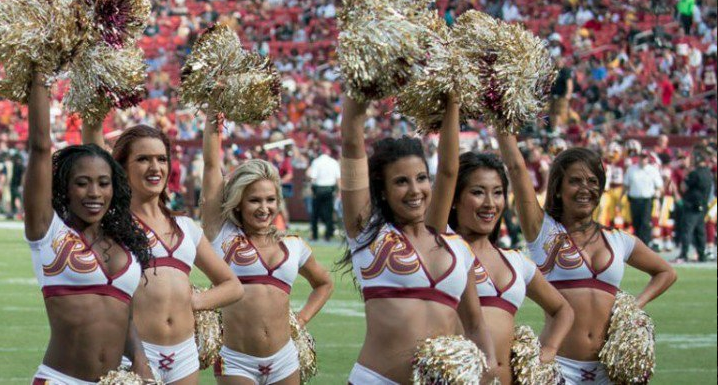 Redskins Cheerleaders Claim They Were "Pimped Out"
02 May, 2018
Washington Redskins cheerleaders were required to pose topless for a photo shoot in 2013, while spectators invited by the team looked on, the New York Times reported Wednesday.
Some of the cheerleaders were then required to attend a nightclub event as escorts for some of the team's male sponsors, according to the Times.
The cheerleaders said there was no sex involved, but they felt the team was "pimping us out." The incidents occurred on a weeklong trip to Costa Rica, for which the cheerleaders were not paid.
"It's just not right to send cheerleaders out with strange men when some of the girls clearly don't want to go," one of the women told the paper. "But unfortunately, I feel like it won't change until something terrible happens, like a girl is assaulted in some way, or raped. I think teams will start paying attention to this only when it's too late."
The Times also described an annual, mandatory boat outing with sponsors. Some of the women characterized the 2012 trip as "a wild gathering, where men shot liquor into the cheerleaders' mouths with turkey basters. Below the deck, men handed out cash prizes in twerking contests."
The Redskins responded to the accounts in a statement to the Times.
"The Redskins' cheerleader program is one of the NFL's premier teams in participation, professionalism and community service," the team said. "Each Redskin cheerleader is contractually protected to ensure a safe and constructive environment. The work our cheerleaders do in our community, visiting our troops abroad and supporting our team on the field is something the Redskins organization and our fans take great pride in."
The NFL has come under increased scrutiny for how it treats cheerleaders. Two women, former New Orleans Saints cheerleader Bailey Davis and former Miami Dolphins cheerleader Kristan Ware, filed discrimination complaints against the league last month.
Among the issues they cited were gender discrimination, sexual harassment, low pay, long and unpaid hours, and discriminatory social media oversight.
The NFL responded to the lawsuits with a statement saying: "Everyone who works in the NFL, including cheerleaders, has the right to work in a positive and respectful environment that is free from any and all forms of harassment and discrimination and fully complies with state and federal laws."
The league said it would work with teams "in sharing best practices" to support cheerleading squads.
Sara Blackwell, the lawyer representing the former cheerleaders filing suit, said last week that the women would settle all claims for $1 in exchange for a four-hour, good-faith meeting with commissioner Roger Goodell and lawyers for the league. In a letter to an attorney for the NFL, they asked for a response from the league by Friday.
"We want change," Blackwell said. "We want the opportunity for change."
ESPN
Image DazzSands twitter
Mentioned In This Post:
About the author