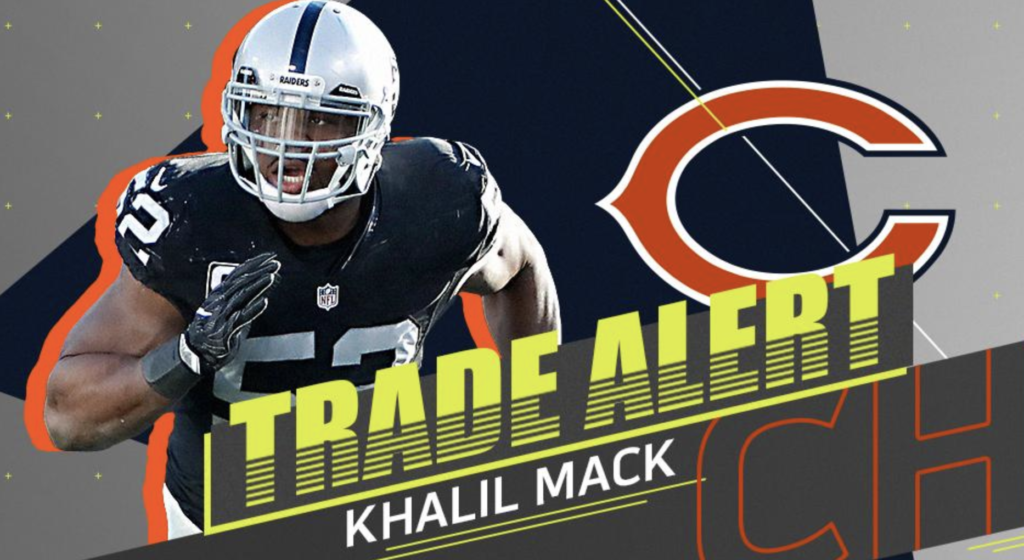 The Bears Just Got Serious
01 Sep, 2018
The Raiders and Bears have an agreement in place to trade pass-rusher Khalil Mack to Chicago, sources told ESPN's Adam Schefter.
The sides are still working on the deal, sources said.
Over the past 48 hours, the Raiders engaged in active trade talks with multiple teams — including the New York Jets, a source told ESPN's Rich Cimini. The Raiders were asking for two first-round picks. Other teams made enticing offers of multiple picks, but the Bears were willing to offer the most, sources told Schefter.
Mack, the No. 5 overall pick of the 2014 draft, missed training camp. He also stayed away from the Raiders' voluntary offseason training program and held out of the team's mandatory three-day minicamp in June. Raiders coach Jon Gruden, hired in January, had yet to meet Mack.
Oakland exercised the fifth-year option on Mack's contract last summer, worth $13.846 million. If he had played under those terms this season, the Raiders could have used a franchise tag on Mack in 2019.
Mack would join a Bears defense that includes No. 8 overall pick Roquan Smith, who had his own holdout this offseason before signing his rookie contract, and 2016 No. 9 overall pick Leonard Floyd. Chicago ranked ninth in points allowed and 10th in yards allowed last season.
Mack made league history in 2015 by being named first-team All-Pro at both outside linebacker and defensive end. In 2016, Mack was the NFL Defensive Player of the Year. Last season, though, his 10.5 sacks were his fewest since his rookie year, and he was not named to the All-Pro team.
Still, he has 40.5 career sacks, and his 185.5 quarterback pressures since coming into the league in 2014 lead the NFL in that time frame, according to Pro Football Focus.
ESPN.com
Image NFL twitter
Mentioned In This Post:
About the author