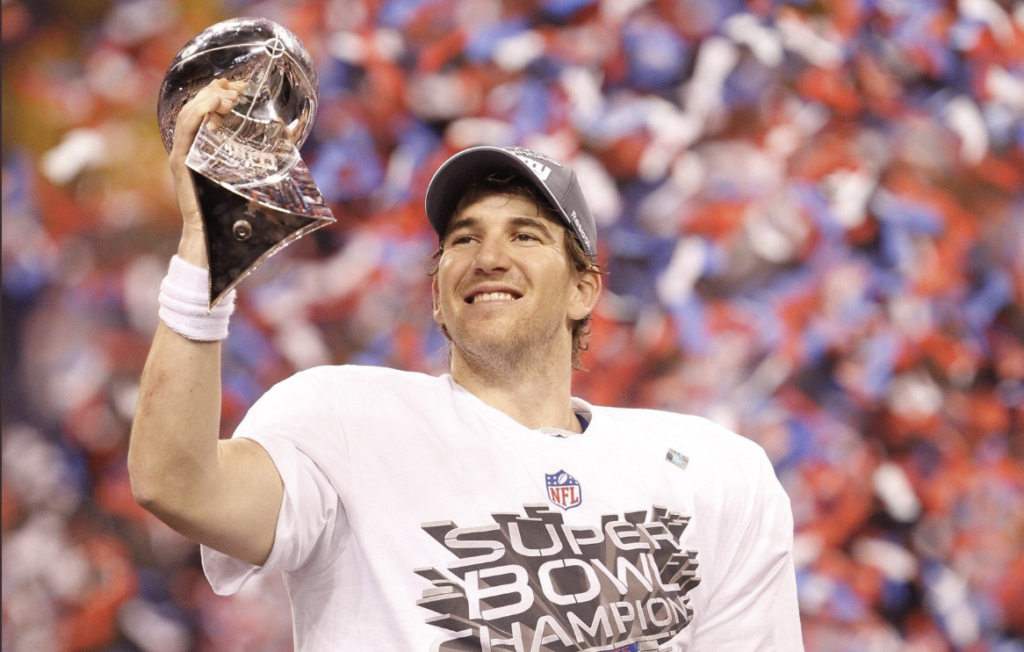 The Book Of Eli is Closing
22 Jan, 2020
After 16 seasons and two Super Bowl titles with Big Blue, the book of Eli Manning is coming to a close.
The New York Giants quarterback will announce his retirement in a press conference on Friday at 11 a.m. ET, which will be aired live on NFL Network.
"For 16 seasons, Eli Manning defined what it is to be a New York Giant both on and off the field," Giants co-owner John Mara said in a statement Wednesday. "Eli is our only two-time Super Bowl MVP and one of the very best players in our franchise's history. He represented our franchise as a consummate professional with dignity and accountability. It meant something to Eli to be the Giants quarterback, and it meant even more to us. We are beyond grateful for his contributions to our organization and look forward to celebrating his induction into the Giants Ring of Honor in the near future."
Giants co-owner Steve Tisch added, "We are proud to have called Eli Manning our quarterback for so many years. Eli was driven to always do what was best for the team. Eli leaves a timeless legacy with two Super Bowl titles on the field and his philanthropic work off the field, which has inspired and impacted so many people. We are sincerely thankful for everything Eli has given our team and community. He will always be a Giant among Giants."
Manning started just four games in 2019 after spending most of his first 15 years in the league as Big Blue's starting quarterback. The 39-year-old QB was benched in Week 3 in favor of first-round rookie signal-caller Daniel Jones, who started New York's next 10 games. Ahead of Week 14, however, Jones suffered a sprained ankle, opening the door for Manning, who was halfway out the door, to start at least one more game. The Giants legend started two.
After losing in Philadelphia on "Monday Night Football," Manning returned to East Rutherford for a proper sendoff in Week 15, leading the Giants to a 38-20 victory over the visiting Dolphins, breaking New York's nine-game losing streak and leaving the Meadowlands to a standing ovation and chants of his name. It was his final start in a Giants uniform, or any uniform for that matter.
With New York moving on with Jones at quarterback and Joe Judge as its new head coach, Manning had no future on the Giants' roster. Eli was set to be an unrestricted free agent this offseason, entering a crowded quarterback pool featuring the likes of Tom Brady, Drew Brees, Ryan Tannehill, Jameis Winston and others. There was no guarantee that Manning would find a starting job in 2020 — his play had been steadily declining since New York last cracked the postseason in 2016. Instead of playing backup with New York or another organization, a role Manning was vocally averse to inhabiting during the 2019 season, the quarterback chose retirement.
Manning leaves the game with a perfectly average regular-season record (117-117), but an 8-4 mark in the postseason. Twice Manning led New York from Wild Card Weekend to a Super Bowl title, in 2007 and 2011, both times winning four games en route to victories over the Patriots.
A paragon of reliability, Manning started 210 consecutive games from Nov. 21, 2004 through Nov. 23, 2017, the third-longest streak by a QB in NFL history. He never missed a game due to injury.
Manning was as prolific as he was proficient. The Giants QB ranks seventh all-time in passing yards (57,023), passing TDs (366), starts (234) and completions (4.895). Eli also holds multiple Giants franchise records, from highest completion percentage (60.3) to most interceptions (244).
The first overall pick in the 2004 draft by the San Diego Chargers, Manning was part of a blockbuster draft-day trade that sent him to New York and fourth-overall pick Philip Rivers to the Bolts. The swap changed the direction of the league and the prospects of both quarterbacks. Manning, Rivers and Pittsburgh's Ben Roethlisberger made up the inimitable Class of 2004, a trio of potentially Hall of Fame quarterbacks who went in the top 11 of the draft and lived up to the hype.
NFL.com
Image TiannaVazquez twitter
Mentioned In This Post:
About the author