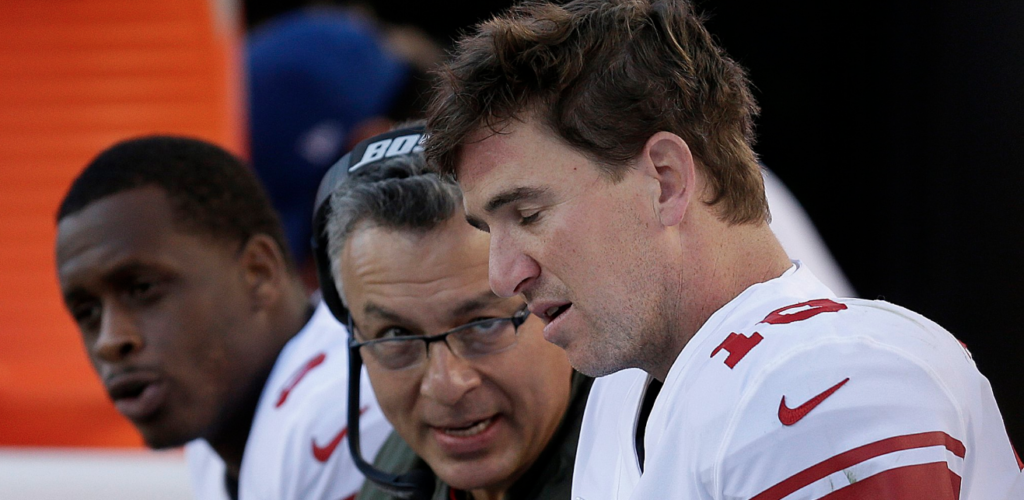 Eli Manning very emotional discussing the decision pic.twitter.com/L2rtHLtStV

— Dan Duggan (@DDuggan21) November 28, 2017
The NY Giants are A Joke and McAdoo is A Fool
28 Nov, 2017
The New York Giants are benching quarterback Eli Manning, and Geno Smith will start this weekend against the Oakland Raiders.
"Over the last five games, we will take a look at Geno, and we will also give [rookie third-round pick] Davis [Webb] an opportunity," coach Ben McAdoo said in a statement.
Manning has started 210 consecutive regular-season games for the Giants. He was given the option of starting the game in Oakland in order to continue the streak.
"Coach McAdoo told me I could continue to start while Geno and Davis are given an opportunity to play," Manning said. "My feeling is that if you are going to play the other guys, play them. Starting just to keep the streak going and knowing you won't finish the game and have a chance to win it is pointless to me, and it tarnishes the streak. Like I always have, I will be ready to play if and when I am needed. I will help Geno and Davis prepare to play as well as they possibly can."
"Great opportunity. I look forward to Sunday," Smith told ESPN's Josina Anderson. "I look forward to being at my best and playing well."
"Surprised is not the word," longtime Giants coach and current Jaguars executive vice president of football operations Tom Coughlin said on 1010XL Radio. "My sentiments are totally with Eli Manning. I love the kid. He is a class act. He is a two-time Super Bowl champ. He is the finest, most humblest young man in that locker room. I haven't followed the Giants. I know it's a disappointing year but my thoughts are strictly with Eli. I'm very upset about when I heard that."
"You can't say you're totally shocked by it or anything the way the season has gone," Archie Manning, Eli Manning's father, told ESPN's Ian O'Connor. "But I'm just a daddy. Eli is 36 years old and he handles everything. I'm just proud of the way Eli handles everything.
"Eli is a rock, not too high and not too low. He just rolls up his sleeves and works. I'm proud of him for the way he's handled himself through everything, and he'll deal with this. He doesn't have to like it, but he'll deal with it."
The Giants (2-9) have been riddled with injuries. Even with Manning, they have been unable to do much offensively. They are 31st in the NFL in scoring, averaging 15.6 points per game.
The team is making the move with the intention of taking a look at other quarterbacks for the future, officials said.
"This is not a statement about anything other than we are 2-9, and we have to do what is best for the organization moving forward, and that means evaluating every position," general manager Jerry Reese said in the statement. "I told Eli this morning that an organization could not ask for any more in a franchise quarterback. He has been that and more. Nobody knows what the future holds, but right now, this is what we think is best for the franchise."
Webb said several times Tuesday that Manning was the "best teammate" he's ever had.
"If you had a Mount Rushmore of not only New York Giants, but New York athletes, he'd be on it," Webb said of Manning.
"That's one thing I learned today," Webb said. "When things aren't going your way, which a lot of things this season sadly have not, he's been the same person every day, he prepares his butt off, he's the best teammate I've ever had. I've said that four or five times now, but I really mean it. I learned a lot from that and I've learned a lot this season, especially from him and how to handle himself and that continued today and it won't stop."
Manning led the Giants to two Super Bowl victories, both times beating the New England Patriots, including the team that was 18-0 entering Super Bowl XLII. He threw the winning pass in that game to Plaxico Burress, who tweeted his disappointment at Manning's benching on Tuesday.
The last time Manning didn't start was Nov. 14, 2004. Kurt Warner started that game for the Giants — a 17-14 loss to the Cardinals. His streak is the second longest by a quarterback in NFL history, behind Brett Favre's 297.
Manning, 36, has completed 62.5 percent of his passes this season and thrown 14 touchdown passes with seven interceptions.
ESPN
Image Yahoo Sports twitter
Mentioned In This Post:
About the author