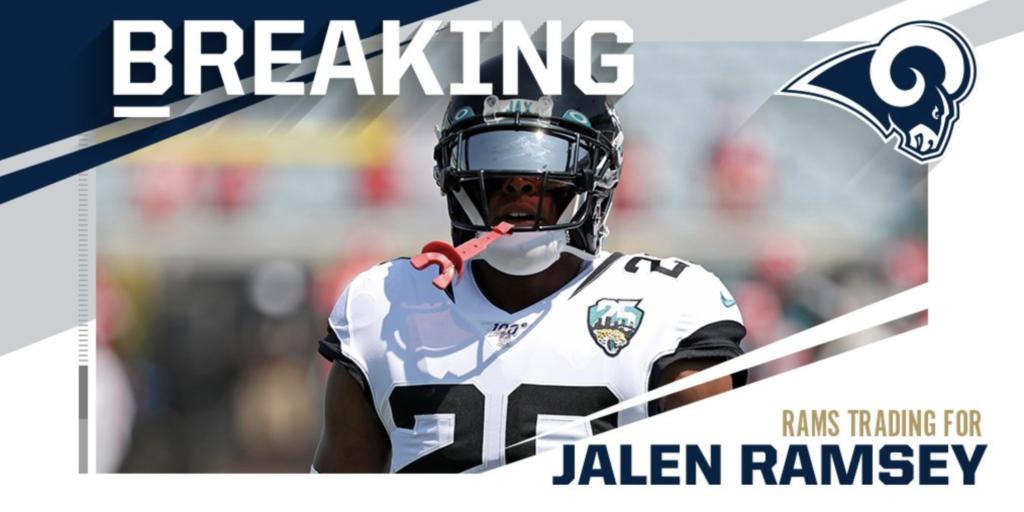 Welcome To Hollywood
16 Oct, 2019
The Jalen Ramsey saga has a Hollywood ending.
The Jacksonville Jaguars are trading the disgruntled star cornerback to the Los Angeles Rams for two first-round draft picks (2020 and 2021) and a fourth-round pick in 2021, NFL Network Insider Ian Rapoport reported Tuesday. The Jaguars later confirmed the trade.
It's quite a haul for the Jaguars, and also quite a coup for a cornerback-needy Rams squad that earlier Tuesday dealt Marcus Peters to the Ravens one day after placing Aqib Talib on injured reserve. The Peters trade left people wondering what other move general manager Les Snead had up his sleeve to shore up a suddenly thin secondary. Now we have our answer.
In Ramsey, the Rams now boast one of the finest cornerbacks in the NFL. Ramsey has made two Pro Bowls and earned one first-team All-Pro selection in his three full seasons since being drafted No. 5 overall in 2016 out of Florida State. Boasting nine career interceptions, Ramsey also serves as a defensive tone setter on the outside, playing with a boisterous confidence that can energize an entire defensive group as seen during the Jaguars run to the AFC title game in 2017.
The injection of Ramsey into a slumping Rams team — losers of three straight — could also prove to be a bolt of energy that turns around their season. The Rams currently rank 20th in Pro Football Focus' adjusted pass defense and have seen Jameis Winston and Russell Wilson shred their secondary in recent weeks.
The pairing of Ramsey on the outside and Aaron Donald terrorizing QBs from the interior should be a boon for defensive coordinator Wade Phillips.
As for the Jaguars, the bevy of picks should make up for a disappointing end to their relationship with Ramsey.
A key member of the Sacksonville defense that took the AFC by storm in 2017, Ramsey seemed set to be the face of the Jaguars for years to come. But 2019 had different plans.
Ramsey and Jacksonville coach Doug Marrone engaged in a sideline spat in a Week 2 loss, which was soon followed by the news of a trade request. Ramsey then suited up in Week 3 for a win over the Titans, but a lingering back issue has sidelined him since.
Throughout Ramsey's absence, the Jaguars did their best to maintain a positive relationship with the disgruntled cornerback and owner Shad Khan on multiple occasions indicated that a trade was not in Ramsey's future.
But as we've seen before, time plus the right deal on the table can change things.
Ramsey is now off to Los Angeles — where he'll certainly want a new contract sooner rather than later — and the Jaguars have a resolution to a situation that has clouded the franchise for the better part of the season.
NFL.com
Image NFL twitter
Mentioned In This Post:
About the author