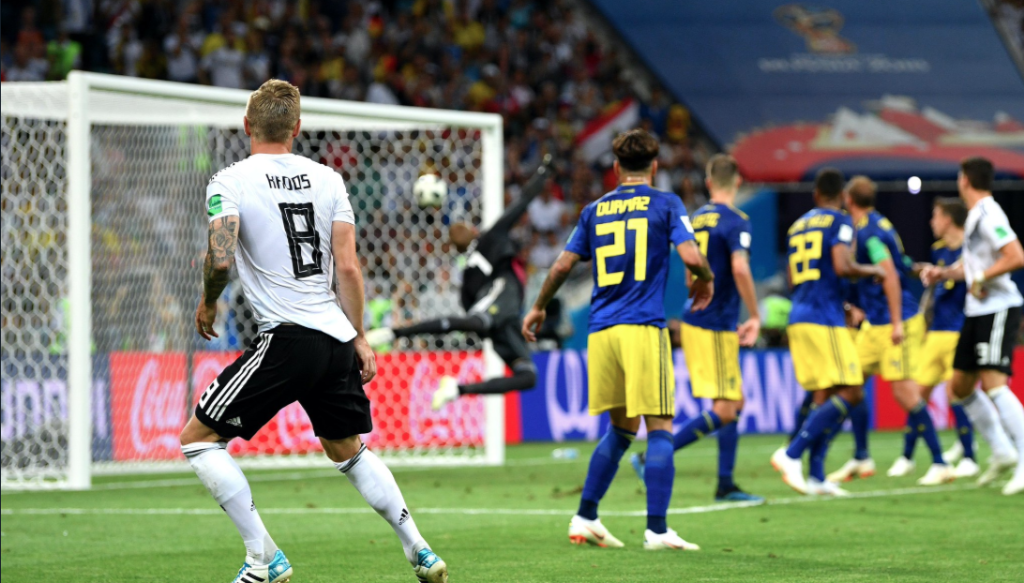 What. A. GOAL!
23 Jun, 2018
Germany scored a last-minute, stoppage-time goal against Sweden to save their World Cup hopes on Saturday.
Despite dominating with 71% possession and control of the entire match, the reigning World Cup champions found themselves stifled by a stubborn Swedish team, who chose to play the majority of the game with 11 players behind the ball.
Sweden had scored in the first half on a clever counterattack, and with its one goal secured, decided to settle into some of the most defensive football seen at the World Cup so far. Germany broke through to draw level at 1-1, but the reigning champions needed to secure a win to control their destiny heading into the final match of the group stage.
With Sweden hunkered down into a defensive formation, Germany continued to push forward, even after losing Jérôme Boateng to his second yellow card of the match. Down to ten men and still controlling the pace of the match, a visibly frustrated German side continued its attack, and finally struck through in what was likely the team's final chance of the match, with Toni Kroos playing hero in the 95th minute.
Sweden had been able to contain every attack Germany managed to throw at them, but in the final seconds, Kroos took his chance on a set piece to go around them instead and made the most of it.
With the win, Germany earned a crucial three points towards surviving into the knockout round of the tournament.
As things stand in Group F, Mexico sits atop the table with six points, with Sweden and Germany both still alive with three. On Wednesday, Mexico will face Sweden and Germany will take on South Korea, with every team but South Korea in control of its destiny.
Business Insider
Image GettySport twitter
Mentioned In This Post:
About the author