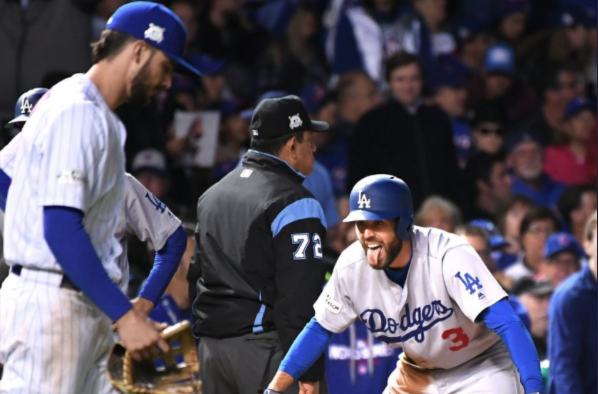 Cubs World Series Dreams Getting Swept Away
18 Oct, 2017
The Dodgers are one win away from their first trip to the Fall Classic since 1988. The defending world champion Cubs need a miracle to avoid an early exit.
Chris Taylor and Andre Ethier homered to back a gem from Yu Darvish Tuesday night at Wrigley Field as the Dodgers rolled to a 6-1 victory over the Cubs to take a commanding 3-0 lead in the best-of-seven National League Championship Series presented by Camping World.
"Tomorrow is a Game 7," Cubs manager Joe Maddon said. "We have three or four Game 7's in a row coming up right now."
Teams with 3-0 leads in the best-of-seven postseason series have gone 35-1 — 11-1 in the LCS, with the lone exception being the Red Sox's comeback against the Yankees in the 2004 American League Championship Series.
"I think that, right now, we're just laser-focused on trying to win baseball games," said Dodgers manager Dave Roberts. "So that obviously, if [a sweep] presents itself, obviously it will be great. But right now our focus is [Cubs Game 4 starter Jake] Arrieta and trying to figure out a way to win a baseball game tomorrow night."
The Dodgers, who swept the D-backs in the NL Division Series presented by T-Mobile, have now won a franchise-record six straight postseason games. Darvish, acquired at the Trade Deadline to be a difference-maker in October, was the winning pitcher in the NLDS clincher against Arizona.
"When you're talking about trying to win 11 games in October, you need that front-end pitching," Roberts said after Darvish's second win this postseason. "That start against Arizona and tonight, this is why you trade for guys like that."
"This is as close as we've been in the 12 years I've been here," said Ethier, who homered to lead off the second inning. "But we know what we're capable of doing and what type of team we have. We know what each guy's responsibility is when their name is called that night. We just go up there and do our job, keep our heads down."
Taylor, playing in his first postseason, hit a solo homer with one out in the third and added an RBI triple in the fifth. All of those runs came off Kyle Hendricks, who had started Games 1 and 5 of the NLDS against the Nationals.
The Cubs needed an offensive spark, and Kyle Schwarber provided that with a solo homer in the first. But Darvish spoiled the mood in Wrigleyville, holding the Cubs otherwise scoreless while striking out seven over 6 1/3 innings. The right-hander now has given up three earned runs over his last 30 2/3 innings, going 4-0 in five starts.
"The home run I gave up to Schwarber, after he hit it, the stadium got really excited and all that stuff," said Darvish, whose only other Wrigley Field start was a loss last year with Texas, "but I was able to focus just to pitch after that."
The Dodgers' bullpen didn't skip a beat after Darvish's exit, extending its scoreless streak to 16 2/3 innings.
"I just think winning teams have good bullpens," said Dodgers pitching coach Rick Honeycutt. "The confidence that they have right now has shined through, and it's been a big lift for our team."
Last season, the Cubs boasted the best record in the Major Leagues, and they beat the Dodgers in the NLCS in six games to reach the World Series. Los Angeles has reversed the script this year.
"I don't think there's any need to change anything," Chicago's Kris Bryant said of the club's approach on Wednesday. "I think we can play even more loose, because what have we got to lose? No one's expecting us to come back except the guys in this room. I don't know if it's a comforting feeling, but I guess it takes a lot of pressure off us because no one's expecting us to win."
MLB
Image LATimes twitter
Mentioned In This Post:
About the author