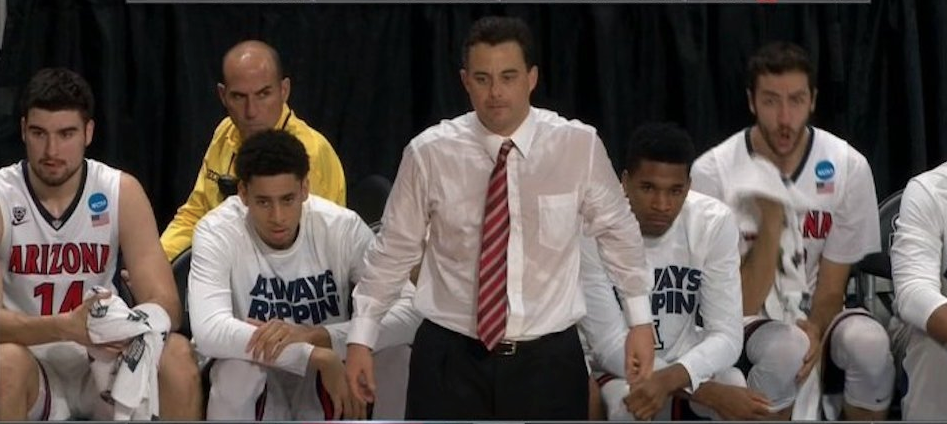 If Sean Miller Thought He Was Sweating Before…..
24 Feb, 2018
FBI wiretaps intercepted telephone conversations between Arizona coach Sean Miller and Christian Dawkins, a key figure in the FBI's investigation into college basketball corruption, in which Miller discussed paying $100,000 to ensure star freshman Deandre Ayton signed with the Wildcats, sources familiar with the government's evidence told ESPN.
According to people with knowledge of the FBI investigation, Miller and Dawkins, a runner working for ASM Sports agent Andy Miller, had multiple conversations about Ayton. When Dawkins asked Sean Miller if he should work with assistant coach Emanuel "Book" Richardson to finalize their agreement, Miller told Dawkins he should deal directly with him when it came to money, the sources said.
The telephone calls between Sean Miller and Dawkins were among 3,000 hours of conversations intercepted from Dawkins' phone by the FBI.
Arizona released a statement saying Miller and the school agreed for him not to coach the Wildcats' game Saturday against Oregon, citing the "best interests of the University and the basketball program." The school announced that Ayton was eligible to play.
The Arizona board of regents met in an emergency executive session Saturday "to receive legal advice regarding the issue and plans to reconvene for updates and legal advice in the coming days."
"This is an emotionally charged issue but it is essential that we move forward decisively and based on facts," Regents chair Bill Ridenour said in a statement. "We must do everything we can to ensure that our programs are of the highest caliber as we must also protect the rights of all involved and respect due process for employees."
Ayton, a 7-foot-1 center who was born in the Bahamas, is considered one of the top freshmen in the country and a leading candidate for national player of the year honors. He is averaging 19.9 points and 11.2 rebounds per game in what is expected to be his only college season, helping the No. 14 Wildcats lead the Pac-12 standings with two regular-season games to play.
ESPN analyst Jonathan Givony, in his latest mock selections, projects Ayton as the No. 2 prospect available for this year's NBA draft.
Richardson, who worked for Miller the previous 10 seasons at Xavier and Arizona, was one of four assistant coaches arrested by FBI agents on Sept. 27, after a two-year investigation into bribes and other corruption in the sport.
Richardson is accused of accepting $20,000 in bribes and paying a recruit to sign with the Wildcats. In exchange for the money, the government alleges, Richardson agreed to influence Arizona players to sign with Dawkins and financial adviser Munish Sood, who also was arrested by FBI agents.
Arizona formally fired Richardson on Jan. 11.
Richardson is charged with six felonies: conspiracy to commit bribery, solicitation of bribes by an agent of a federally funded organization, conspiracy to commit honest services fraud, wire fraud conspiracy, mail fraud conspiracy and travel act conspiracy. He has pleaded not guilty and faces up to 60 years in prison and $1.5 million in fines.
On Friday, Yahoo! Sports reported that players from more than 20 Division I men's basketball programs have been identified as possibly breaking NCAA rules through violations that were uncovered by the FBI's investigation into corruption in the sport.
Schools identified by Yahoo! as having players who possibly violated NCAA rules include Duke, North Carolina, Texas, Kentucky, Michigan State, USC and Kansas. At least 25 players are linked to impermissible benefits, including Michigan State's Miles Bridges, Alabama's Collin Sexton and Duke's Wendell Carter Jr.
Ayton moved from the Bahamas to San Diego, where he played two seasons of high school basketball. As a junior in 2015, he transferred to Hillcrest Prep Academy in Phoenix, where he played with current Duke freshman Marvin Bagley III. Ayton was ranked the No. 3 player in the 2017 ESPN 100, behind Bagley and current Missouri freshman Michael Porter Jr.
Ayton committed to Arizona on Sept. 3, 2016, after also considering scholarship offers from Kansas, Kentucky, Maryland and San Diego State. When Ayton signed with the Wildcats, Sean Miller described him as "one of these once-in-a-generation types of players" because of his size and shooting ability.
After Richardson was arrested in late September, Arizona president Robert C. Robbins announced that the university had hired two law firms to conduct independent investigations into the matter.
Asked for a comment, Arizona reiterated statements issued by school athletic director Dave Heeke and Sean Miller in October when the investigations were announced.
Sean Miller, 49, is a three-time Pac-12 Coach of the Year and has a 242-72 record in his ninth season with the Wildcats. The Arizona board of regents approved a contract extension for him in February 2017, which increased his annual salary to at least $2.9 million through 2022. He has denied knowledge of Richardson's alleged scheme to bribe players to sign with Arizona.
"As the head basketball coach at the University of Arizona, I recognize my responsibility is not only to establish a culture of success on the basketball court and in the classroom, but as important, to promote and reinforce a culture of compliance," Miller said in a statement released in September. "To the best of my ability, I have worked to demonstrate this over the past eight years and will continue to do so as we move forward."
If Miller is fired for cause, his contract is written in such a way that he would still receive more than 85 percent of the money he is owed through May 31, 2022. However, he would lose a longevity bonus of an undisclosed amount, which Arizona was due to pay him in May 2020.
ESPN
Image ForTheWin twitter
Mentioned In This Post:
About the author