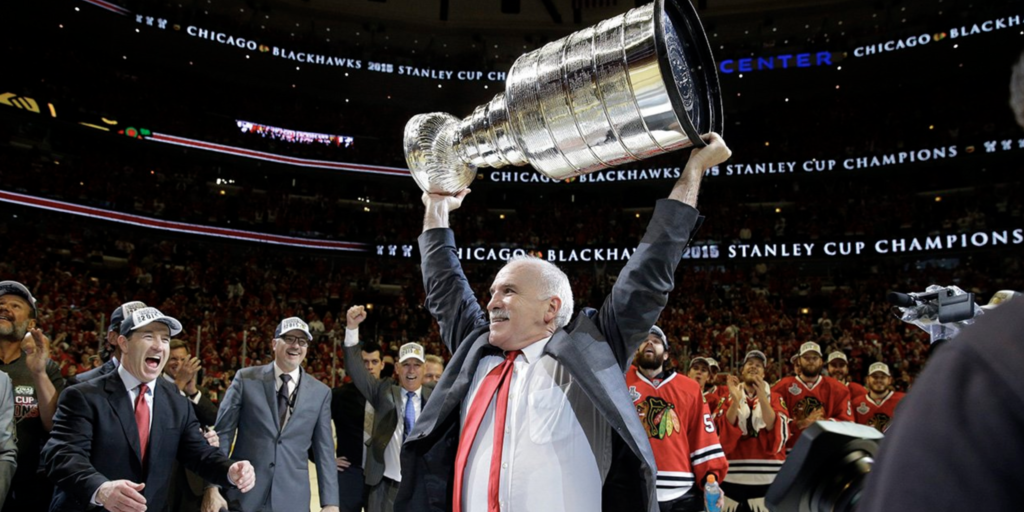 Loyalty Doesn't Exist For Sports Owners
06 Nov, 2018
The Chicago Blackhawks fired coach Joel Quenneville on Tuesday.
Quenneville, who won three Stanley Cups with the Blackhawks, was the longest-tenured coach in the NHL. He had been with the team since 2008.
Chicago named their AHL coach, Jeremy Colliton as the new coach. Colliton, 33, becomes the youngest head coach in the NHL.
Owner Rocky Wirtz released a statement saying the team parted with the 60-year-old Quenneville with his "full support."
"As Chicago Blackhawks fans have seen over the last decade, this organization no longer shies away from making tough decisions or ones based on emotion," Wirtz's statement read. "Those days are long behind us. Of course, Joel's was difficult, as it should have been. During his tenure as head coach to the Chicago Blackhawks, Joel brought the city of Chicago and our fans three Stanley Cups and an incredible era of hockey."
Last season, the Chicago Blackhawks missed the playoffs for the first time in a decade. They were without starting goaltender Corey Crawford for most of the season. In 2018-19, Crawford returned but the Blackhawks are 6-6-3, the second-worst record in the Central Division. After a quick start, they've taken only one of a possible 10 points.
The Blackhawks also fired assistant coaches Kevin Dineen and Ulf Samuelsson. Barry Smith, 66, was named an assistant coach on Colliton's staff.
"This is certainly a very difficult decision," general manager Stan Bowman said in a statement. "But I believe it is in the best interests of the Blackhawks organization. We need to maximize each and every opportunity with our playoff goals in mind and create continued growth and development throughout our roster at the same time. After much deliberation the last several days, with great respect to what Joel has meant to the Blackhawks, we knew we had to make a change. Along with our appreciation for everything Joel has accomplished for our franchise, we also thank Kevin and Ulf for their many contributions and wish them success in the future."
Last season there were no in-season coaching changes in the NHL for the first time since Original Six expansion. Quenneville's departure marks the second Blackhawks firing in a week. The Los Angeles Kings fired coach John Stevens over the weekend, replacing him with Willie Desjardins.
Collition was in his second season as the Rockford Ice Hogs head coach, the top affiliate of the Blackhawks. Rockford made it to their first-ever AHL Western Conference Finals last season.
Prior to joining the Blackhawks organization, Colliton spent four seasons as the head coach of Mora IK in Sweden (HockeyAllsvenskan).
Collition was a second-round pick (58th overall) of the New York Islanders in the 2003 NHL Draft. He appeared in 57 NHL games across five seasons with the Islanders, recording three goals and three assists.
ESPN
Image SiriusXMNHL twitter
Mentioned In This Post:
About the author