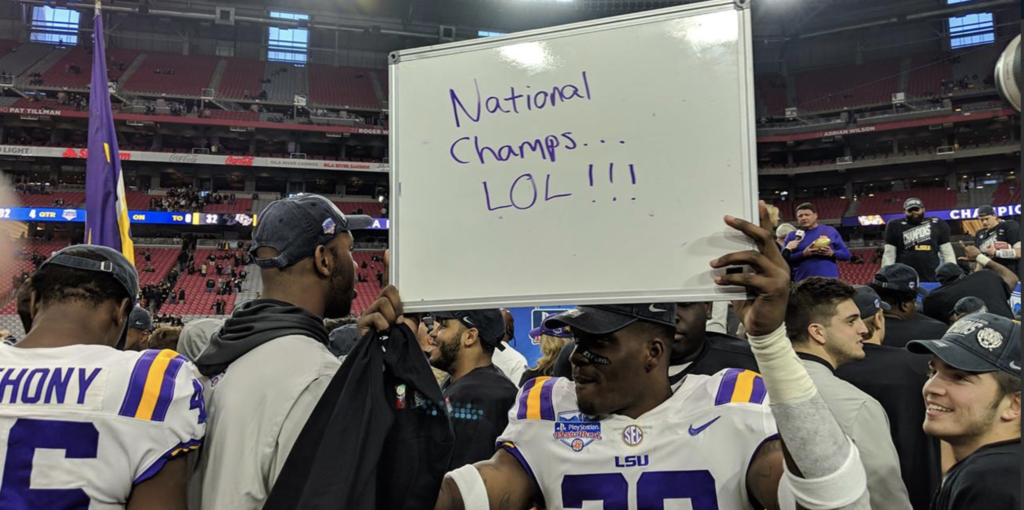 LSU Has No Respect For UCF's Win Streak
01 Jan, 2019
The longest winning streak in major college football is over.
LSU defeated Central Florida 40-32 in the Fiesta Bowl, ending the Knights' run of 25 consecutive victories dating to the start of the 2017 season.
UCF was playing in its second consecutive New Year's Six Bowl after beating Auburn last season in the Peach Bowl. But the result was different.
The Knights started well enough, jumping out to an early 14-3 lead on a Greg McCrae touchdown run and a 93-yard interception return by Brandon Moore for another score.
From there, LSU took command.
Joe Burrow threw for three touchdowns in the first half to put the Tigers ahead 24-21 at intermission.
Another scoring completion of 32 yards to Ja'Marr Chase gave LSU a 31-21 lead in the third quarter. Burrow finished 21-for-34 for 394 yards and four touchdowns.
Most of those stats came after the interception he threw to Moore on his team's second drive and a big hit from a crushing block on the return.
"I didn't really think about the hit too much after it happened," said Burrow, who had a cut on his neck from the play. "It hurt for a second, I got right up and went on to the next play."
Burrow entered the game with just 12 touchdowns and a season-high of 307 yards against rice. But he found his receivers early and often as the Tigers outgained the Knights 555-250.
"It looked like the passing game we wanted," LSU coach Ed Orgeron said. "Joe was on the money."
Even with the yardage domination, UCF didn't quit.
UCF got within eight with 2:24 left after Taj McGowan scored on a touchdown run and Darriel Mack Jr. found to Otis Anderson for a successful two-point conversion.
The Knights got a quick stop the ensuing possession to set up and opportunity for a tying touchdown. But Mack was intercepted by JaCoby Stevens two plays later.
"Love the way they competed for four quarters, continued to fight with everything that they had. Believed. Played as a group," UCF first-year coach Josh Huepel said. "Just weren't good enough at the end."
USA Today
Image Brodyamiller twitter 
Mentioned In This Post:
About the author