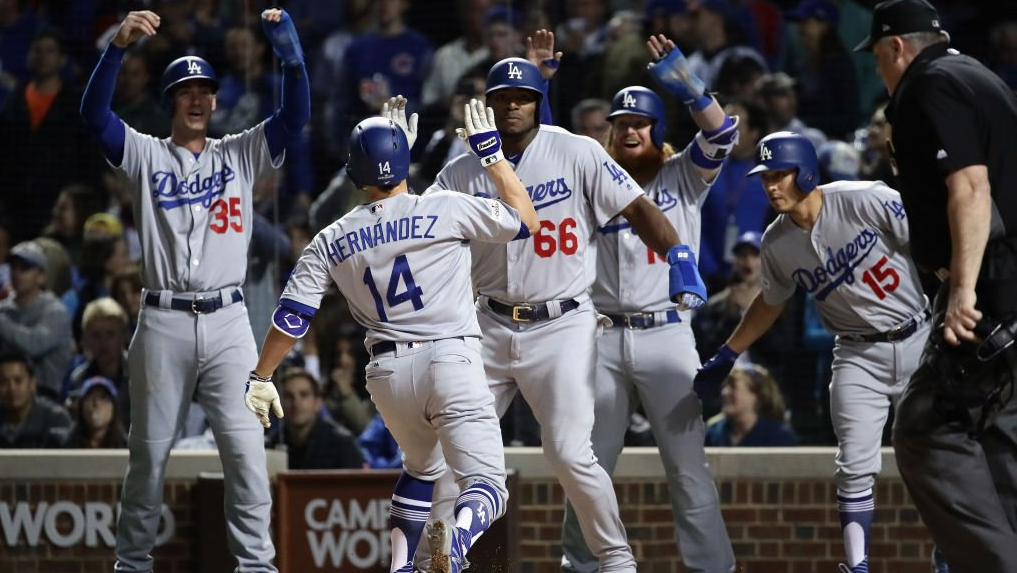 Sometimes You Get Your Ass Kicked By A Better Man
20 Oct, 2017
Enrique Hernandez saw two pitches in the first three innings Thursday night. Turns out, that was all he needed to etch his name in the Dodgers' postseason record books.
Hernandez followed a second-inning solo home run with a grand slam in a five-run third, giving the Dodgers a seven-run lead over the Cubs in Game 5 of the National League Championship Series presented by Camping World. With an 11-1 win, Los Angeles secured its first NL pennant since 1988. Hernandez added a two-run shot in the ninth to give him seven RBIs, a new LCS record for one game.
The three homers are a Dodgers record and tie a Major League record for a postseason game. Adam Kennedy was the last player to hit three, in Game 5 of the 2002 American League Championship Series with the Angels. Hernandez also became the fourth Dodger to hit a grand slam in the postseason. The most recent salami — a James Loney blast against Ryan Dempster in the 2008 NL Division Series — also took place at Wrigley Field.
Hernandez, who didn't start the previous two games, set a franchise record for one postseason game with his seven RBIs. He's the fifth player with seven RBIs and the first since the Red Sox's Troy O'Leary in Game 5 of the 1999 AL Division Series.
Hernandez's first two home runs came on the first pitch. He demolished a Jose Quintana fastball in the second, sending it 399 feet, per Statcast™, to center field.
The Cubs would chase Quintana in the third, calling on right-hander Hector Rondon. Hernandez smashed a first-pitch slider from Rondon 390 feet into the netting above the right-center-field wall to make it 7-0. Hernandez's third homer came off Mike Montgomery in the ninth.
Hernandez had one multi-homer game during the regular season — a July 19 contest against the White Sox.
MLB.com
Image ESPNStatsInfo twitter
Mentioned In This Post:
About the author