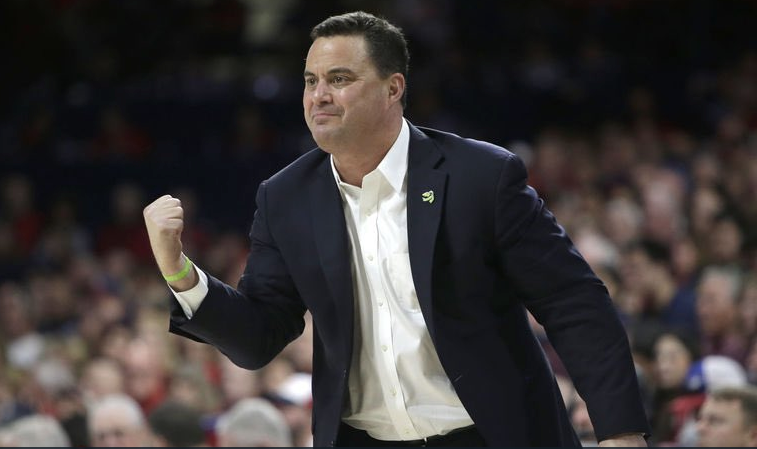 "There was no such conversation"

Sean Miller denies an "innacurate, false and defamatory" report that he discussed paying DeAndre Ayton pic.twitter.com/5fnCJSV7Zy

— Sports Illustrated (@SInow) March 1, 2018
What Violations?? Sean Miller Ain't Going Nowhere
01 Mar, 2018
Arizona men's basketball coach Sean Miller on Thursday vehemently denied an ESPN report about an alleged pay-to-play conversation, while getting a show of support from university president Robert Robbins and the school's board of regents.
In his first public comments since the report detailing his alleged involvement in a discussion to pay a potential recruit, Miller said he never knowingly violated NCAA rules and has never paid a recruit.
"I never have, and I never will," Miller said.
"I also understand that there is an ongoing federal investigation, and because of this, I cannot do anything that might compromise the integrity of this investigation. However, on this point, I cannot remain silent in light of media reports that have impugned the reputation of me, the university, and sullied the name of a tremendous young man, Deandre Ayton."
After the Arizona Board of Regents met later Thursday, Robbins said Miller would remain the coach at Arizona.
"At this time we have no reason to believe Coach Miller violated NCAA rules or any laws regarding the allegations reported in the media," Robbins said. "Additionally, he has a record of compliance with NCAA rules, and he has been cooperative with this process.
"While some might be tempted to rush to judgment when there is intense public pressure, due process is the bedrock of fair treatment and acting with integrity. With that in mind, we will continue to pursue every avenue of inquiry available to us during an active federal investigation to fully understand the facts. We recognize that investigation is ongoing, and we will continue to be respectful and cooperative through its conclusion."
Robbins said Miller was expected to coach the 19th-ranked Wildcats (22-7, 12-4 Pac-12) on Thursday night when they play host to Stanford.
"I have been completely open and transparent, and I look forward to coaching this outstanding team as we seek a Pac-12 regular-season championship this week," Miller said. "I now intend to turn my focus to basketball and our players and this team."
The board also said that it fully supports Miller as coach.
Sources told ESPN's Mark Schlabach last week that FBI wiretaps intercepted phone conversations between Miller and Christian Dawkins, an employee of ASM Sports agent Andy Miller. According to sources familiar with the government's evidence, Sean Miller and Dawkins discussed paying $100,000 to ensure that Ayton would sign with the Wildcats.
Miller and Dawkins had multiple conversations about Ayton, sources told ESPN. When Dawkins asked Miller if he should work with assistant coach Emanuel "Book" Richardson to finalize their agreement, Miller told Dawkins he should deal directly with him when it came to money, the sources said.
"Let me be very, very clear: I have never discussed with Christian Dawkins paying Deandre Ayton to attend the University of Arizona," Miller said. "In fact, I never even met or spoke to Christian Dawkins until after Deandre publicly announced that he was coming to our school. Any reporting to the contrary is inaccurate, false and defamatory."
Miller said he was once approached about paying a player to attend Arizona but did not go into specifics.
"The one time someone suggested to me paying a player to come to the University of Arizona, I did not agree to it," he said. "It never happened, and that player did not come to the University of Arizona."
Miller did not mention ESPN by name in his comments Thursday and did not take questions after making his statement. ESPN stands by its reporting on Miller and the FBI investigation.
Lute Olson, who coached Arizona to five Final Fours and the 1997 NCAA championship during his tenure from 1983 to 2007, told ESPN's Jeff Goodman he had no comment on the investigation into the school, "other than the fact I just want what's best for the Arizona program."
ESPN
Image CoachSpringerST twitter
Mentioned In This Post:
About the author