Hornets select Anthony Davis
29 Jun, 2012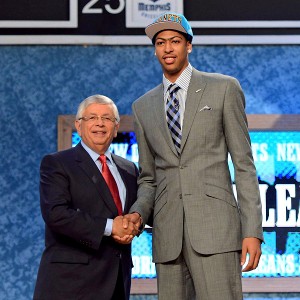 NEWARK, N.J. — Best in the country and No. 1 and 2 in the NBA draft. The celebration goes on for Kentucky's kids.
2012 NBA Draft Lottery
The New Orleans Hornets took Kentucky forward Anthony Davis with the top overall pick. Follow the rest of the NBA draft with ESPN's DraftCast.
The Wildcats became the first school to have the top two picks and tied a record with six players taken overall Thursday night.
After the New Orleans Hornets made the long-expected selection of forward Anthony Davis with the first pick, Charlotte followed by taking fellow freshman Michael Kidd-Gilchrist.
"It's crazy," Davis said. "Michael is a great player. We have two down and four more to go. Hopefully, all of them will go in the first round."
They didn't, the only disappointment for the Wildcats. They settled for four in the first round and a tie with North Carolina, which won the race to four picks — all in the top 17 selections.
Harrison Barnes (No. 7, Golden State), Kendall Marshall (No. 13, Phoenix), John Henson (No. 14, Milwaukee) and Tyler Zeller (No. 17, Dallas) all went between Kidd-Gilchrist and the next Kentucky player, Terrence Jones at No. 18 to Houston.
Zeller's rights were later traded to Cleveland for a package that included No. 24 pick Jared Cunningham of Oregon State.
Otherwise, it was the Wildcats' night, starting with a hug between Davis and Kidd-Gilchrist after the first selection.
"My arm was shaking and my hands were sweaty. Got up and hugged Michael, my best friend, wanted to hug him for a minute," Davis said. "When my name got called, wanted to make sure he stayed close."
He did — following Davis as the next player to climb onto the stage and shake commissioner David Stern's hand.
Mentioned In This Post:
About the author