Loul Deng to play in 2012 Olympics
10 Jul, 2012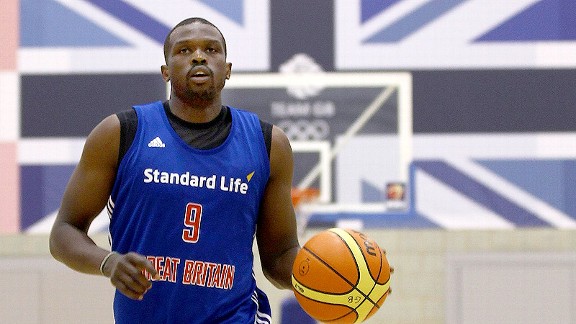 When Luol Deng marches in the opening ceremonies at the Olympic Games in a little more than two weeks, it will mark the culmination of a remarkable journey, one of many undertaken by the 14,000-plus athletes participating in London.
 Yet his goal to represent host Great Britain — the country that granted Deng, his parents and his eight siblings political asylum in 1995 — came perilously close to floundering in the wake of the wrist ligament injury that he suffered playing with the Chicago Bulls in January.
A meeting at the end of the NBA season saw the Bulls attempt to talk Deng out of playing at the Games, something he publicly had stated was a major ambition as soon as London won the bid in 2005 to host the Olympics.
Much as I wanted to please Chicago and Chicago Bulls fans, I just hope they understand if I don't play in these Olympics, it will haunt me for the rest of my life. Giving something back is something that comes from my family.

" — Luol Deng
 Now, in a far-reaching interview conducted at the recent GB training camp in Houston, Deng revealed the counter-arguments that he made to his employers, who are scheduled to pay him $27.6 million the next two seasons.
Having declined surgery in January in order to aid the Bulls in their quest for the NBA championship, Deng believed that he had fulfilled his obligation to the team, especially as sources within his national team camp agreed with comments from Bulls coach Tom Thibodeau last week that Deng will not need surgery this offseason.
"My whole thing is, when I had the wrist injury, I really didn't want to do the surgery because I felt we had the team — and I still think we did — to win it all," Deng said. "Unfortunately, things just didn't go right. We had a lot of injuries throughout the season. When I had my injury, I told the Bulls I was going to hold off from surgery because I felt like we had a chance to win but also that I still wanted to play in the Olympics.
"I could have gone for surgery, missed most of the season, still been back for the playoffs but wouldn't have known what our (team's) position was going to be. I wanted to win every game. So I played and I just stuck to what I said because when I had the injury, I said I'm going (to play) through with the injury. I'm an athlete who works hard, I'll find my way through it … and I did. I played through, I was an All-Star for the first time in my life. I feel that right now I've worked so hard all these years, I've figured out how to be effective and how good I can be."
Sources familiar with that period, when Deng's Olympic participation hung in the balance, said that independent medical exams in the United States confirmed the player's belief that he could play with the injury without damaging it further or suffering a drop-off in performance.
Thibodeau appeared to back up that prognosis last week when he told "The Waddle & Silvy Show" on ESPN 1000 that he did not expect Deng to need surgery, and expected him to report to the Bulls' training camp on time and fully fit after the Olympics.
Deng will not yet commit himself publicly one way or another on the subject of surgery. But in an emotional explanation of why he feels indebted to Great Britain, Deng outlined the reasons for standing firm in the wake of the Bulls' attempts to persuade him not to play in London.
"I honestly don't want to answer that. I kind of keep that to myself," Deng said when asked if and when he will have surgery. "I know exactly what I want to do, but I'm keeping it to myself.
"But believe me, I'll be fine. Even though there is a climax to everything and it seems right now that we're coming to that climax, everything will calm down. I work hard, I never want to live with that feeling that I've disappointed somebody. For the fans, I'm always going to show up and work hard. I'm not going to show up banged up and out of shape. I'd never do that.
"Much as I wanted to please Chicago and Chicago Bulls fans, I just hope they understand if I don't play in these Olympics, it will haunt me for the rest of my life. Giving something back is something that comes from my family."
And giving back to the country that granted him asylum is something he couldn't refuse.
 "A story I always tell people is I remember growing up in Egypt, while my parents were in London waiting for us all to be granted asylum," Deng said. "We were a poor family struggling day in, day out, just planning what we could eat, what we could have for dinner, every day. There were days we would go on without eating and I never forget those days.
"But what I remember is we would have visitors and my family somehow would cook the best meals, they'd find a way to cook the biggest meals. I remember thinking, why don't we have this every day. Later on, as I got older, I got to understand it was my family's way of giving thanks to people for coming to our house to visit us. That's the type of family I come from. If someone shows me love, I always want to double that love. From where I came from, the way I was raised, when somebody does something for you, you always want to give something back to them."
He helps his homeland of Sudan with the Luol Deng Foundation, but giving back to Britain required a different strategy.
"Being from the Sudan, there is a lot of stuff going on in Sudan so I try to do a lot there with my foundation," he said. "That's my way of giving back. With England, it's a little bit different. The UK is not a Third World country so it's very hard for me to see how I can give back to them.
"Now I feel like playing in the Olympics and bringing basketball to all those kids for the future, I feel this is my way of giving back. It's not necessarily for this guy or that guy, it's more for the basketball community. Maybe being given political asylum and being accepted as a political refugee in England, maybe that's my role, maybe that's what I was supposed to be."
Showing the sort of diplomacy that would make his politician father Aldo proud, Deng is aware that his every move in the coming weeks will be analyzed and examined in Bulls nation.
His first warm-up game for Great Britain was Saturday in Orleans, France, when he scored 20 points and had 12 rebounds in a 79-74 loss to France. Seven more exhibitions remain — including a meeting July 19 with the U.S. national team in Manchester — before Great Britain opens Olympic group play July 29.
Mentioned In This Post:
About the author